Projects
Helping Hand Bags
During Melbourne's first COVID lockdown, Olive was looking for a way to give back to the community whilst staying creative. Using the fabric offcuts from her other bag designs she created sets of produce bags.  For the first 60 sets of bags, 100% of each sale went directly to Moving Feast- the result of Victoria's food social enterprises joining forces to grow, cook and deliver meals to the most vulnerable Victorians as part of the widespread food relief system. So far the Helping Hand Bags project has raised over $2000 supporting the vital work they are doing to create a pandemic food response that creates justice, sustainability and resilience. Olive has sewn over 350 mesh bags and counting!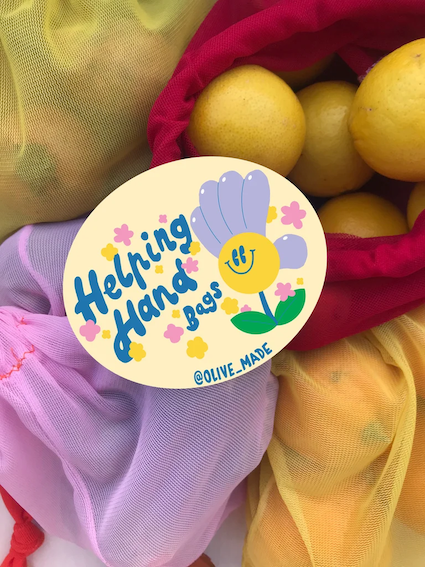 Changing Room Exhibition
'Changing Room' is a curated exhibition that explores the way in which fashion can be used to celebrate body diversity. The exhibition advocates for the importance of diverse designs, representations and advertising within fashion, and features works that investigate the body's varied forms with a focus on body positivity. The exhibition aims to survey how Melbourne creators are using fashion and art to promote inclusivity and positive change
The exhibition showcased submissions from RMIT students working across a range of disciplines as well as emerging members of the Melbourne artistic community who are using both social media and DIY methods to celebrate body empowerment.
'Changing Room' is curated by Olive Gilbert and Emma North.
For the month of April 2018, Olive was the artist in residence at the Maribyrnong City Council's Artsbox. Supported by Arts and Culture Maribyrnong the Artsbox is a converted shipping container that sits in the heart of Footscray.
Olive and Lily undertook fieldwork amongst the shoppers at the Footscray market.  Working under the project title 'Bag Lady', they will investigate the relationship between place and people through the everyday use of the shopping bag. They seek to capture and celebrate the cultural and economic exchange that occurs in the market place. 
The public were invited to join for a walking tour and bag making workshop during the residency, allowing them to reflect upon the materiality of their local area.